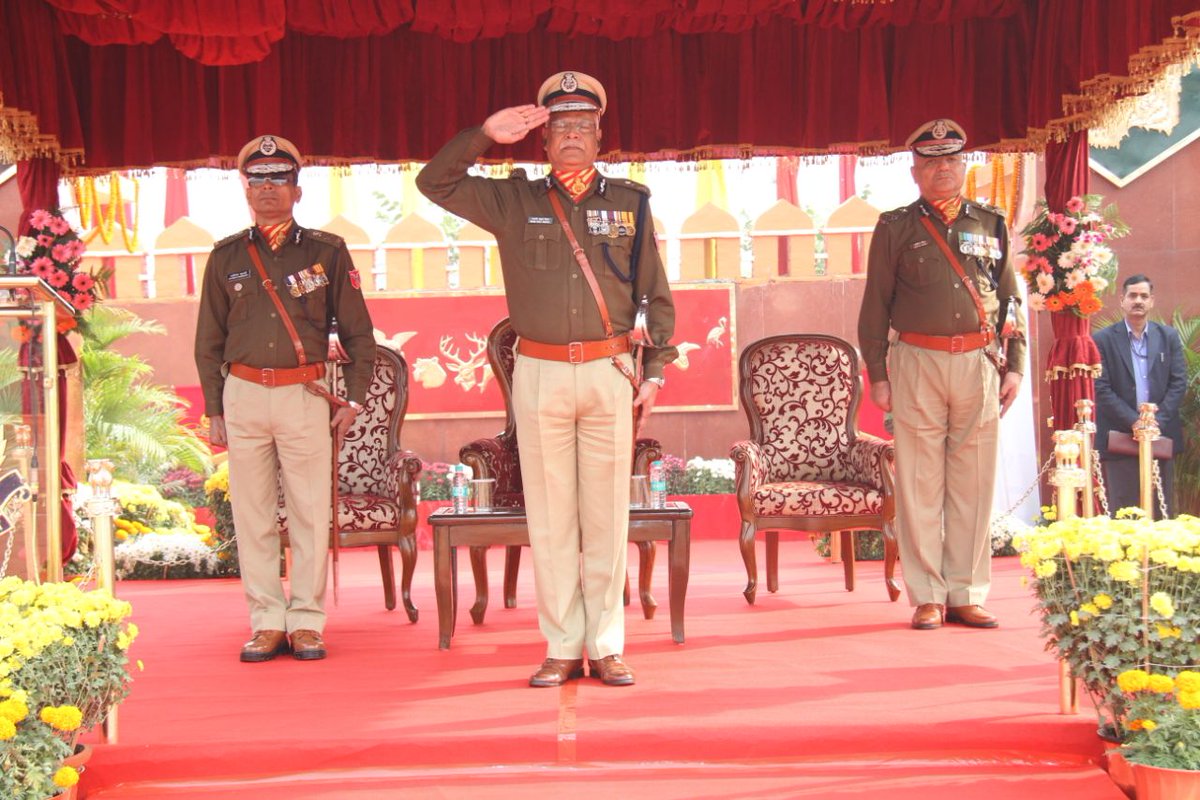 NC Network
New Delhi: Sashastra Seema Bal (SSB) celebrated its 54th Anniversary in its grand campus amidst imposing settings at 25th Battalion, here on Saturday. Union Home Minister Rajnath Singh took the salute of the splendid parade as Chief Guest and inspected the impressive parade with Rajni Kant Mishra, Director General, SSB. The Anniversary function was further followed by brilliant and disciplined march past of the smartly dressed Force personnel representing all seven Frontiers and one Mahila contingent of SSB.
After the parade, Singh awarded President's Police Medal for Gallantry (Posthumously) to Late CT/GD Sanjeet Kumar and the Gallantry Medal was received by his wife Manu Sharma. Late CT/GD Sanjeet Kumar bravely laid down his life for the motherland while fighting against Naxals in Dumka, Jharkhand in the year 2015. He also felicitated four awardees for President Police Medal for distinguished service and 23 awardees for Indian Police Medal for meritorious service in true acknowledgment of their selfless and unwavering service tothe Nation. He also awarded four SSB personnel with Union Home Minister Medal for Excellence in Training.
Later, the vivid and stunning display of SSB troops, Dog squad, Dare Devil team, Parkour event were captivating and exhilarating. SSB Martyrs were honoured by introducing a Tableau called "Pride of India" on parade to commemorate the sacrifices of the bravehearts in the line of their duties.Union Home Minister in his address appreciated the discipline, dedication and synchronization shown by the SSB Jawans and Mahila contingent in their parade and March past.
Rajnath Singh applauded and praised SSB for serving the Nation with the motto of "Service, Security and Brotherhood" wherever it has been deployed since its inception in the year 1963. He further said that he personally witnessed the people friendly approach followed by SSB in true words and spirit in its work culture and ethos during his visit to the 36th Battalion SSB, Gayzing, Sikkim.
He said that SSB has become the second largest Border Guarding Force of the country by raising and with operationalization of its all 73 Battalions in a very short span of time. He further said that with the approval of cadre review faster promotional avenues will open up for SSB personnel and it will surely infuse more zeal and enthusiasm among the Force personnel.
On this occasion, Rajnath Singh released a SSB Souvenir consisting of various informative and educative articles of retired and serving Force personnel. Rajni Kant Mishra, Director General, SSB in his welcome
speech thanked and conveyed his gratitude to Union Home Minister for gracing the occasion of 54thAnniversary of SSB. He further highlighted the glorious past of SSB and elaborated the achievements and initiatives taken by SSB for effective border management on open and porous Indo-Nepal and Indo-Bhutan borders. He thanked the Union Home Minster for approval of the cadre review proposal of combatized and non-cobatized personnel.
He also informed that modernization of the Force is on anvil and under current modernization plan Netra-2 UAVs have been purchased and Bullet Proof vehicles, Mine Protected Vehicles, Patrolling vehicle including Motorcycles, Modern Assault Rifles, Night Vision devices and Communication devices are being purchased soon to strengthen the operational capabilities of Force. He said that additional three Bomb Disposal Squads have also been set up to reinforce the SSB's tactical operational powers in counter-insurgency areas of deployment.
Union Home Minister later met a group of 46 girls & 130 boys, who reached Delhi from different parts of the country including the states of Bihar, West Bengal, Assam, Jammu & Kashmir and Sikkim under "Educational Excursion cum Study Tour" organised by SSB in its Civic Action Programme and "Beti Bachao Beti Padhao" campaign. These young girls and boys hailing from far-flung and remote areas shared varied and vibrant experience of their Educational Excursion-cum-Study Tour to various places of historical interest like Amritsar, Agra, Kolkata & Bangalore. Union Home Minister wished them good luck for their future endeavours in Nation building.